I usually review shows after I've been to them but this is too awesome to miss. I am a huge advocate of getting some great music in the area and enjoying some local brews so here you go: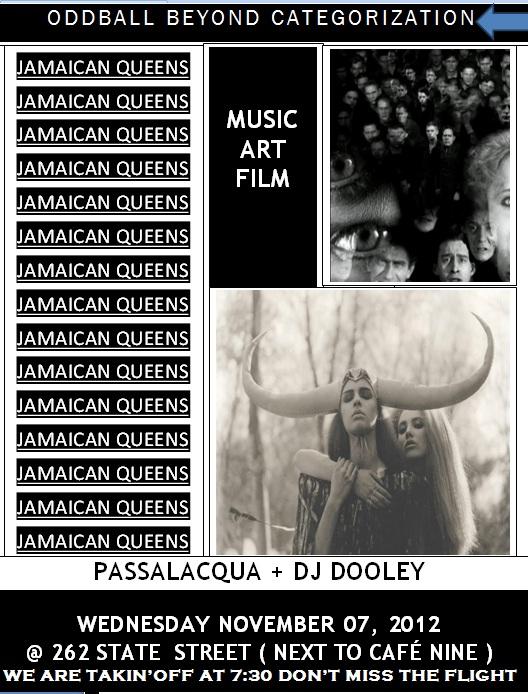 Here's what's going on. Jamaican Queens and Passalacqua will be in New Haven tomorrow night along with some fine DJ sets from Dooley AND local beer from Thimble Islands Brewing Company in Branford. Oh, how about some art and film? You've got that as well.
I just checked out the bands earlier this week and am really looking forward to seeing them live.
You can watch one of their videos below, or go to the Jamaican Queens website which I am on right now and it's kind of insane and worth checking out of you have some time.  I am especially digging Passalacqua on this Election Day with this one line about Dennis Kucinich. But seriously. These bands are fantastic and I'm basically seeing them in a living room. As you should too! Details on the show are here.

The featured beer is American Ale from Thimble Islands Brewing Company. I just stopped by their headquarters in Branford, CT and chatted with them earlier this evening. The American Ale is classic; it has an incredibly drinkable quality to it. A bready finish without being heavy at all. I've had it on draft many nights at the Outer Space in Hamden, CT where it's getting to be one of the most popular beers on tap. If you dig it but want something darker, no sweat. I asked what they are planning to brew next and it sounds like a stout is the direction that they are going.
So if you're looking to catch a sweet blend of hip hop, electronica, good beer and good vibes, State Street is the place to be tomorrow (today?). Party on a Wednesday.